ConnTell Directory G-L
Lorraine Hartin-Gelardi
6108 Hibernia Heights Drive
Salt Point, NY 12578
Phone: 845-235-7800
Email: lhartin@aol.com
Website: www.Lorrainetells.com
Lorraine Hartin-Gelardi believes in the power of the spoken word to enlighten, educate and delight all who listen! For 23 years, she has shared the gift of story through performance, workshops, writing and story event production. A versatile performer and emcee, her stories of wit, wonder and wisdom captivate audiences of all ages whether she is standing in the classroom or on a concert stage.

"Lorraine Hartin-Gelardi is a storyteller's storyteller! Each time she steps center stage to tell a story, be it personal, traditional, or a world folktale, she demonstrates how a master storyteller helps people grow whole as human beings by enabling them to see with their mind's eye." – Barbara Aliprantis

Her workshop "The Art & Significance of Telling a Good Story" was chosen as part of Special Studies at Chautauqua Institution during the summer of 2015. Participant Diane Kreger had this to say: "I wanted to learn something I didn't already know and add it to what I do know. Well -- I learned a great deal - about myself and the power of just telling a story!"

In 2011, Lorraine won an NSN Member Grant for Reach for the Stars to develop a culture of storytelling with early childhood educators. She partnered with Dutchess Community College Louis Greenspan Day Care Center and mentored teachers and administrators for 18 months, helping them to incorporate storytelling into the curriculum and use stories as a way to share family experiences.

Lorraine is co-founder with Gail Burger, Kusum Gupta and Muriel Horowitz, of the Dutchess Interfaith Story Circle that celebrated its 10th anniversary in October 2014. The circle meets in a different house of worship every month to share stories from a variety of faith traditions and holds an annual Peace Concert: An Afternoon of Sharing Stories.

Lorraine is also co-founder with Karen Pillsworth of Tall Tale/Short Story Productions which recently produced "It Happened One Night…True and Not So True Real-Life Misadventures" at Arts Society of Kingston in Kingston, NY.

Her book Wisdom in the Telling Finding Inspiration and Grace in Traditional Folktales and Myths Retold was the winner of the 2008 Storytelling World Resource Award for Special Storytelling Resources.

Lorraine Hartin-Gelardi - Storyteller
TALES OF IMAGINATION & INSPIRATION
Wisdom in the Telling: Finding Inspiration and Grace in Traditional Folktales and Myths Retold
Winner of the 2008 Storytelling World Resource Award for Special Storytelling Resources
Jackson Gillman
"Stand-Up Chameleon"
P.O. Box 41
Onset, MA 02558
Phone (h & w): 508-295-0886
In CT: (203) 281-1063
Email: jackson@jacksongillman.com
Website: www.jacksongillman.com
Sparkling with energy, wit and whimsy, the "Stand-Up Chameleon" engages and delights audiences of all ages. Song, dance, mime and/or sign language might be incorporated into his performance, or a simple, quiet delivery - whatever works best to bring a story to life. Many interactive shows to choose from including several educational nature programs. Featured at NSA three times and other festivals across the country. Unique workshops offered. 30 years experience. Easy-going and flexible. References galore. Listed with SCLC, NEST. (Frequents New Haven area.)
"A masterly storyteller. Compelling..." - Christian Science Monitor
"One could never err in selecting Jackson. He's incredible!" - Missouri River Storytelling Festival

Carol Glynn - Storyteller/Actress
103 Flanders Road
Niantic, CT 06357-1528
Phone/FAX: (860) 739-3525
Email: cglynnarts@gmail.com
Enter Carol Glynn! Lively, entertaining, energetic and heartfelt, she leaps into your heart with complex characterizations, thoughtful storylines and humor that inspires rip-roaring laughter. Audiences participate in every show. Elementary and family topics include: Bullies, CT Legends, the Constitution, International and Fractured Tales. Also an author, speaker and teaching artist.
"Carol should be on every school's list for presenters. She is an outstanding professional." – Olga Manos, Program Director, Regional Vacation Academy (S.E.CT).

Fees: $450 per CT show
Liz Gruber
29 Tremont Street
Hartford, CT 06105-3070
Phone: (860)523-9819
Email: lizziegruber@yahoo.com
Liz's stories make connections across time, experiential, ethnic and national boundaries with world folktales as well as contemporary and personal stories aimed to audiences ranging from the youngest children to family and adult audiences.

Liz has shared the magic of Oral Tradition in a variety of settings, from festivals to intimate groups and relishes them all. In schools, her stories and activities always support curriculum, while they expand vocabulary, develop listening skills and imaginations, often addressing issues like self esteem and community.

Liz also tells in the Japanese style of Kamishibai storytelling. Liz holds a Masters of Arts degree in Oral Traditions.

"They had so much fun, they never realized Liz was supporting my curriculum every month." – Kelly Sousa, a Hartford Public Schools elementary schoolteacher

"Your lovely, melodious, soothing and confident voice was a true balm. The story was rich on so many levels." - Rita Stark, a retired English teacher and prison literacy volunteer
Bill Harley
301 Jacob Street
Seekonk, MA 02771
Phone: 508-336-9703
Email: info@billharley.com
Author, singer, storyteller, educator, Bill Harley uses song and story to paint a vibrant and hilarious picture of growing up, schooling and family life. Bill's performances are an upbeat and participatory combination of story and song that are geared specifically for the grade levels he's performing for. With original and folk-based material, written and adapted over the years, Bill knows how to reach both students and teachers.

Recipient of the lifetime achievement award from RI Council for the Humanities "for his use of music, song, and story in building community; and encouraging lifelong learning, exploring and growing", Bill is available to visit your community as an author, performing artist, workshop leader or keynote speaker. Block-bookings available for author visits and family concerts.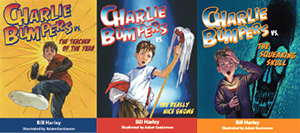 Bill's newest books, a series (Charlie Bumpers vs.) about a fourth grader are A Junior Library Guild selection and have received rave reviews: ... "Charlie's dry and dramatic narrative voice clearly reveals the inner life of a 9-year-old... Harley magically weaves the simple lesson that people, even teachers, can surprise you..." – KIRKUS

Educators and Parents: to view Bill's TEDx talk, Stories Out Loud, please visit: http://www.youtube.com/watch?v=B6NCF391SX0

Fees: Vary, according to work booked, negotiable for block-bookings.

"There are three things you need to be a great children's storyteller - great stories, a powerful sense of what it's like to be a kid and terrific delivery. Bill Harley has all this and more." – LA Parent

"...Bill Harley is a national treasure; his voice is the confluence of humor, grace, magic and insight. His stories are ear candy for listeners 3 to 83..." – Out With the Kids

"...a champion yarn-spinner and tunesmith with a sense of wonder, whimsy and mischief..." – Washington Post

Jim Hawkins
2500 Parkview Place
Baldwin, NY 11510
Home Phone: 516-868-9346
Cell: 516-695-6718
Email: irsihhawkins@verizon.net
Website: http://jimhawkinsirishstory.com
Jim has been telling stories and singing songs for over 30 years. From his training at the American Academy of Dramatic Arts to the Stella Adler Studio, to his work with the Irish Arts Center in New York City and his ongoing concerts of traditional Irish music, ballads and storytelling with him partner Greg Ryan, Jim has honed his skills as a teller and singer.

Jim does a variety of programs, many of which come from his Irish background and culture:

"Humorous Irish Stories and Songs" Many of the stories come from Jim's Irish background and the songs are from the rich Irish ballad tradition of the Clancy Brothers and Tommy Makem, the Dubliners and Christy Moore. During his performances, Jim teaches Irish history, culture and traditions related to the stories and songs and he encourages his audiences to discuss their own Irish connections.

"A Traditional Irish Christmas" A performance of stories, songs/hymns, poetry and customs related to an Irish Christmas. Along with the telling, singing and reciting, Jim explains the customs of Advent, Christmas Eve, Christmas Day, St. Stephen's Day (December 26th) and Little Christmas (January 6th).

"Stories By A Turf Fire" A tandem performance with storyteller Kate Danaher of the life and stories of one of Ireland's greatest storytellers, Eamon Kelly. Kate and Jim narrate the stages of Eamon's life, including many of his stories of the real Kerry and its magical past, the heartbreak of immigration, the figure of the parish priest and the courting and the dancing.

"Irish History from 1798 to the 1980s and the Hunger Strikers" A program of narratives, poetry and songs tracing the major developments in Irish history from the Spanish Aramada, the uprisings of the 1800s, the rebellion of 1916 and the subsequent civil war in Ireland and the person of Bobby Sands and the hunger strikes of the 1980s.

"A History of the Irish Storytelling Tradition" A discussion and performance of the variety of story types (religious, myth, legend) as they relate to the Irish storytelling tradition, their origins and development.

"Driving Across American with Billy Zuckerman" A one-hour performance based on Jim's trip across the United States in 1970 with his friend Billy. It is filled with humorous stories, songs from this time period and the joy of experiencing this wonderful country of ours.

"Astoria" The story of Jim's returning to Astoria, New York, at the age of ten, having spent his childhood in Ireland. In it he tells of the difficulties of adjusting to his new life, his battles with the kids in his neighborhood, the street games that were played, his eventual coming to love Astoria, his falling in love with the game of baseball and his hero Mickie Mantle, as well as his comic book heroes: Superman, Batman, Roy Rogers, Hop-Along Cassidy and the "greatest of them all," the Lone Ranger.

"Jim is man standing between two cultures and his immense storytelling talents serve as a bridge between the kalidiscope of Irish culture today and the rural Ireland of our forefathers." – Gerry Reagan, Wild Geese Heritage Foundation.

"No two persons could have been more authentic with their singing, telling and laughter. They brought Eamon Kelly's stories to the festival…a welcome addition to the storytelling world." – Peg O'Sullivan, Director of the Connecticut Storytelling Festival.

"The energy and nourishment from Jim's stories will sustain us for a long time as we continue on our storytelling journeys." – Barbara Aliprantis, American Center for Theater and Storytelling.

"Jim Hawkins' 'Astoria' evokes an era of growing up in New York in the 1950s and 60s…Bringing to mind wonderful memories and images of street games, Mickie Mantle, the Lone Ranger and a joyful and caring community. Jim tells with great passion and sincerity." – Robin Bady, New York Storytelling Center.

Fees: Negotiable
Sara Ingram
117 Kelsey Hill Road
Deep River, CT 06417
Phone: 860-526-2599
Email: ingramsj@yahoo.com
Sara offers workshops that she has developed as a Gifted and Talented teacher in Connecticut public schools and as a published poet.

Programs emphasize creativity, original thinking, writing and storytelling.

• Sara's recently published SOUNDS OF HOUSE AND WOOD (Antrim House, 2013) provides the springboard for childhood adventures about growing up on a snowy hill with a librarian mother, mechanical father and best-friend dog.

• Acting Out the Story Behind the Poems - A reading and storytelling event.

• ARTSPARK- Authentic Writing from Art. Using an 8 page- booklet, students create "art sparks" that provide a starting point to write and illustrate a story. Can be adapted to school curriculum and different age groupings.

• Background and Dramatic Presentation of - "A Child's Christmas in Wales"/ "The Highwayman"/ "The Ballad of Madam Knight." A tie-in to seasonal/historical events.

• Intro to Sign Language-grades 2-6.

• Individualized programs created for special events.

Sara has been involved with literature and arts-related pursuits for many years. A former editor of the Globe Pequot Press, she attended Bread Loaf Writers' Conference, Suffield Writers' Conference, and The Frost Place. As a dancer/choreographer she has received grants from the Connecticut Commission on the Arts for work in dance and education at the American School for the Deaf.

References available by request.
Les Julian
PO Box 3488
New Haven, CT 06515-0174
Phone: 203-393-5862
Fax: 203-393-5863
Email: les@lesjulian.com
Website: www.lesjulian.com
This multi-National Award-winning artist's songwriting and performing was recently featured on the GRAMMY WINNING CD, All About Bullies Big and Small.
LJ performs songs that foster connection and participation and inspired The NY Times to write of one of his performances – "LJ writes songs to make you laugh and think. His audience laughed...heads bobbed...it was like magic!"
In LJ's show DREAMING ALOUD! students hear songs about ordinary people who have done extraordinary things! Stories set to music that are inspiring, uplifting, upbeat and fun and presented with the books that inspired their being written! (CT Core Standards are met.)
SONG-CREATING WORKSHOP/RESIDENCY
A song-creating workshop for creatively fostering literacy and communication. A fun, imaginative, unique way of approaching any curriculum-related subject. Students help create a song then rehearse, perform, and record it in a creative hour-long session which focuses on respectful creative process. Each classroom receives a CD of the songs created. (CT Core Standards are met.)
Steve Long
1322 Boulevard
West Hartford, CT 06119-1607
Email: sjlbenriya@earthlink.net

Language defines the world and different languages define the world differently. Steve, who has lived in Japan for over ten years, has combined English and Japanese. Using his well-received "champon" style, Steve hopes to pass on an appreciation of the Japanese language and how Japanese writers for families view the world.
Steve also does presentations on Japan for elementary schools.

Sharon Lynch
77 Knollwood Road
Farmington, CT 06032
Phone (w): (860) 675-2364 (h) (860) 673-2487
Email: sharonmlynch@hotmail.com
Sharon Lynch draws on her background in education and creative movement to bring grace, drama and humor to her storytelling. She invites audiences to see, through story, the gifts of nature; to hear inspirational tales from folk and fairy tales, saints' lives, and the Bible; and to feel the joy or sorrow or peace while actively listening. School, library, organization and church programs for families and adults.

Fee negotiable.