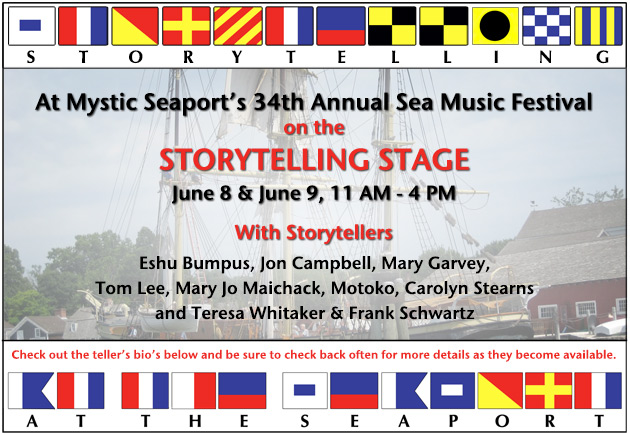 Meet the Tellers
---
Eshu Bumpus
Eshu Bumpus captivates his audience by telling a variety of African, African-American and World folktales leavened with music, humor and mystery. Eshu is a renowned storyteller, an accomplished jazz vocalist and a master at physical characterization.
He has performed on the Exchange Place stage at the National Festival (1998), and performed 36 sold out shows in 13 days at the Smithsonian (1997). After appearing at the 10th Annual Connecticut Storytelling Festival (1991), Eshu was acclaimed as," … a fresh, responsible and knowledgeable voice... distinct and compelling... the hit of the Festival."

Eshu recently went to Senegal to collect stories, where he heard about Black Mermaids. He will debut a story about them at the Sea Music Festival, as well as African folk tales about sea creatures and stories about people coming across the sea.

Jon Campbell
Jon Campbell has become an honorary East coast member of the Fisher Poets, and has gone out there several times.
He is quite the racounteur always.







Mary Garvey
Mary Garvey is unusual among the fisher poets of the Northwest in that she sets her poems to music.

She is writing from personal experience in the fishing trades of her region, and she has good stories to tell about how she came to write her pieces.



Tom Lee
Tom's stories are folktales taken from the oral tradition of countries around the world. Some are hundreds, some thousands of years old. They celebrate the human condition we all share.

Tom began telling stories while living in Scotland and England. He researched folk tales extensively at the British Library and worked as both a consultant and performer for a BBC-TV documentary on the life and work of the Brothers Grimm.

Tom is an arts educator for the Metropolitan Museum of Art in New York City and a frequent guest lecturer for the Reading and Writing Project at Columbia University Teachers College.

Contact info: 65 Middlesex Ave., Chester, CT 06412; 860-526-4600; tellingstories@msn.com

At the Sea Music Festival Tom Lee will tell myths of Sea Gods from Around The World, Folktales from the Scottish Coast and "Moby Dick for Small Fry".
Mary Jo Maichack
Mary Jo Maichack has performed on regional festival stages from San Francisco to a school in Venice, Italy, at schools, libraries and many venues and taught children and adults how to brave the stage and build oral language skills for their education and delight. She has won two national awards for her CDs of storytelling and music, including an original tale of historical fiction. Her workshops correspond with learning standards–by the number.

She has performed and trained others in more than 3,000 sites since 1989, from South Carolina, to Scuola Gozzi in after-school programs, countless preschools, YMCAs, family centers, libraries and schools from K-8; WGBY-TV (PBS) On-Air Literacy Fair; Colonial Theatre, Pittsfield, MA; Safe Kids & TV Award-Winning Educational TV (PEG Award) in Providence, RI; First Night Northampton, (five years). She is a regular workshop provider at the Northeast Regional Storytelling Conference, (League for the Advancement of New England Storytelling) held annually at M.I.T. and elsewhere.

She earned a B.A. cum laude in English literature from Middlebury College, attended their German Summer School, uses French, Italian, and Spanish, even bits of Japanese and Russian in her many programs. Foreign language learning is a favorite hobby.

At the festival, Mary Jo will perform excerpts from her show "Or Would You Rather Be a Fish?". The songs and stories include "Why The Sea Is Salty", "Alligator Stomp" and the use of sea creature puppets that children from the audience operate.

Motoko
Motoko is a native of Osaka, Japan. She first came to the United States as an exchange student to the University of Massachusetts. Her earlier career included working as a Japanese language instructor at UMass for ten years.
She trained with late master mime Tony Montanaro (1927-2002).

Her partner Eshu Bumpus introduced her to the world of American storytelling. Motoko has performed professionally since 1993, going to hundreds of schools, libraries, museums and festivals.

Motoko has appeared on "Mr. Rogers' Neighborhood" and an educational video by Harcourt, and also has been awarded numerous grants from the Massachusetts Cultural Council and New York State BOCES. Her debut CD, "The Promise of Chrysanthemums" won a 2002 Parents' Choice Silver Honor Award and a 2003 Storytelling World Award. In October 2003, Motoko was showcased on the Exchange Place Stage at the National Storytelling Festival in Jonesborough, Tennessee, representing the Northeast region. In November 2003, Motoko toured Miyazaki, Japan, as a part of CarnegieKids in Miyazaki Project, sponsored by Carnegie Hall.

Parents' Choice Award-winning storyteller Motoko enchants audiences of every age with her weaving of ancient lore, original tales, lyrical movement and traditional music. Her repertoire includes Asian folktales, Zen tales, comical tales from rakugo (a Japanese traditional style of storytelling), funny mime vignettes, as well as personal stories from her childhood in Japan and her life as an immigrant in the U.S. Motoko also offers K-12 classroom workshops and residencies on Japanese culture, creative writing, and storytelling.

She will perform Japanese folk tales about the sea.

Carolyn Stearns
Carolyn Stearns' storytelling takes experiences from all avenues and blends them with a language full of color and mood. Carolyn resides on a dairy farm that has seen eleven generations walk the same fields on the Eastern Connecticut hilltop. She has a life long love of horses and of history.

Carolyn spins tales as they were done 200 years ago. She hears the echoes of long ago sailors as they make their way home to port and transports listeners through time, to a place where life was slower and heroism and strength prevailed.

Contact info: 440 Mansfield City Rd., Storrs, CT 06268; 860-690-4292; Mothermoo2001@yahoo.com

Carolyn will tell a true tale about George Washington getting lost in the fog on Long Island Sound and how fisherman saved him and his army. She will tell "Glooscap and the Floating Islands", a Native American tale. She will also tell some Civil War stories including "Gray's of Liberty Hill" about a captain on a New London whaling fleet, home at Liberty Hill in Lebanon, who dies at sea and is preserved in a rum barrel to come home for burial.
Teresa Whitaker & Frank Schwartz
Teresa is a musician and storyteller, originally from Cynthiana, Kentucky. Rhythm and a mercurial voice are trademarks of Teresa Whitaker's lively and joyous performances. Teresa tells original stories and traditional myths and folktales, weaving in participatory music with songs, guitar, Celtic harp and percussion instruments.

Frank is a musician and songwriter from Baltimore, Maryland who grew up listening to and playing many styles of music. Frank sings and plays guitar, bass, old-time banjo and the mandolin.

In addition to their original music concerts, current performances include Teresa's story and musical Kentucky river piece "Gathering The Waters", featuring Frank, and concerts featuring the music of Maryland songwriter and environmental educator Tom Wisner.

Contact info: 52 Wheeler Dr., West Suffield, CT; 860-668-1535; FTZJ@cox.net

Teresa Whitaker and Frank Schwartz blend music and storytelling and will tell Selkie stories, traditional Scottish tales about magical beings who are seals in the ocean and humans on the land. When their sealskins are stolen when they are in human form, they cannot return to the sea.

---
Under The Sea Storytellers
Under The Sea Storytellers is a troupe of student storytellers. They have met at Stanton School in Norwich through The BRIDGES After School Program with storyteller, Ann Shapiro since January.

They have heard and read many stories, have made up puppet shows and played theater games.

They have chosen and learned to tell a variety of Sea Folk Lore, which they will perform at the Sea Music Festival.



---
Perfomance Schedule
---
Saturday, June 8
Figureheads Exhibit

11:00 a.m. - Noon
Or Would You Rather Be A Fish?
Mary Jo Maichack, Jon Campbell




Noon - 1:00 p.m.
Black Mermaids, Japanese Sea Stories
Eshu Bumpus, Motoko




1:00 - 2:00 p.m.
Sea Creatures
Eshu Bumpus, Motoko, Mary Garvey




2:00 - 3:00 p.m.
Adventures At Sea
Mary Jo Maichack, Student Tellers




3:00 - 4:00 p.m.
Potpourri of Sea Stories
Ann Shapiro, Student Tellers

Saturday, June 8
Children's Stage

1:00 p.m. - 2:00 p.m.
Under The Sea Storytellers - Student Tellers from the BRIDGES After School Program
Norwich, CT

3:00 - 4:00 p.m.
Marine Adventures
Eshu Bumpus, Motoko, Mary Jo Maichack

Sunday, June 9
Figureheads Exhibit

11:00 a.m. - Noon
Adventures At Sea
Tom Lee, Jon Campbell

Noon - 1:00 p.m.
True Stories From History
Carolyn Stearns, Mary Garvey

1:00 - 2:00 p.m.
Ghosts & Magic
Teresa Whitaker & Frank Schwartz, Tom Lee

2:00 - 3:00 p.m.
Sea Creatures
Carolyn Stearns, Teresa Whitaker & Frank Schwartz
---
For more Sea Music Festival information, visit Mystic Seaport's website:

http://www.mysticseaport.org