The mission of the Connecticut Storytelling Center is to promote the living art and use of storytelling in the many environments of our diverse society.
The Connecticut Storytelling Center sponsors:
The Annual Connecticut Storytelling Festival at Connecticut College every April.
An active Schools Program closely related to curriculum needs, in several Connecticut school districts.
Workshops for storytellers and teachers during the academic year.
Tellabration! – A series of storytelling concerts for all ages, every November. Tellabration! Is part of an international celebration of stories.
Campus Slammer – Story Slams and Finals to encourage the development of storytellers and listeners in our college campus communities.
ConnTELL – A directory of storytellers with descriptions and contact information.
A network of Story Sharing Groups that generally meet monthly.
Occasional special concerts and workshops.
---
IN THE NEWS
---
THE CONNECTICUT STORYTELLING CENTER WELCOMES
MARY-JO MAICHACK AS MARKETING DIRECTOR
The Connecticut Storytelling Center is excited to announce the appointment of Mary Jo Maichack as its first Marketing Director.

Maichack, a professional storyteller, teaching artist, and co-founder of Maichack Arts, brings forty years of professional performance and marketing experience to the 35-year-old organization.

After graduating from Middlebury College with a B.A. cum laude in English literature, Maichack worked in sales and administration in Connecticut in insurance, with The Prudential and Union Mutual.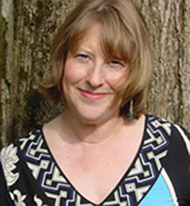 "The sales training I received after college has served me well all these years since. I knew I wouldn't stay in the field forever, and kept looking for a way to turn my love of the arts into a personal career. I acted in community theater, took voice and foreign language studies, not realizing that some 15 years after college graduation, there would be a nationwide revival of traditional storytelling that suited my nature."

After a 4-year stint as a one-person freelance advertising agency, a job change to children's librarian in Springfield, Massachusetts reconnected Maichack to her background in literature and opened up the world of working as a professional storyteller. Twenty six years later, she's still at it. With a vengeance.

Since 1989, Maichack lost count at some 3,000 events, developing her art into many show themes supporting libraries, literacy and schools, professional development workshops for teachers, and more recently, a cabaret show performed in the Berkshires of Massachusetts and elsewhere. She has won national awards for her CDs and garnered hundreds of grants. Some 10 years ago, her husband, a professional painter and teaching artist working in pastels, joined her to form their arts partnership, Maichack Arts.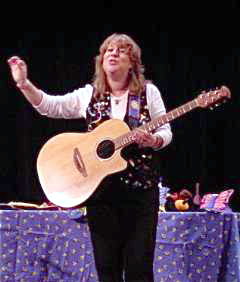 "She's the ideal blend of been-in-the-trenches of professional storytelling life with the know-how and creative ideas to develop this organization's vision and marketing goals," said Executive Director, Ann Shapiro. "We know how busy she's kept herself and didn't think we could get her on board, but we are thrilled she wanted to work with us."

Maichack's position is part-time, and she has begun discussions with Shapiro, the staff and board of CSC, headquartered on the campus of Connecticut College in New London, Connecticut.

Their focus will be on increasing revenue for the organization's three main events: November's "Tellabration!" (a state-wide series of storytelling shows), the acclaimed annual Connecticut Storytelling Festival and Conference held at the end of April, and the Center's highly lauded Schools Program, which brings storytelling arts into classrooms to benefit literacy.

"Self-employment is empowering, but sometimes lonely. To have CSC friends turn more into colleagues is just what I want at this point in my career. I have the opportunity to work with people I really enjoy to help grow an organization I love and respect."

Learn more about Mary-Jo, visit her website - www.MaryJoMaichack.com